About Us
We love our Chihuahua's and only breed them once every year to two years. Because of this we only have puppies every once in a while.
We are a Husband and Wife team. We are learning to show our Chihuahua's through the local Chihuahua Club here. It is an adventure I have always wanted to do. Brownie is learning how to become a Champaion (We hope). At this point we only have a few pups every year or so. Be sure to check the website every few months if you are instrested in one or two of our babies. Or even for new information posted. Be sure to check out "Brownie's Blog".
All puppies are Registered/registerable AKC. Pet and Full AKC are available. Puppies come with Current vaccinations, Veterinarian examination, Health guarantee. Shipping is Available.
We keep our puppies indoors with us. Thet are not caged outside. They are part of our family. We love them and play with them every day. They are use to noisy, other dogs and children. They are loved very much, and come to you pre-spoiled .. We want them to go to forever homes.
Please email us for a questioner as we would like to know a little about you and your home.
Thank you,
Jim and Lyne'
We are a Merle Free Breeders. We do not sell to Puppy Mills, or Pet shops.
The Chihuahua Bill of Rights
Don't take me home with you unless you will care for me every day. I'll need food, water, a clean bed, but most of all I'll need your love and devotion. To ensure my health, I'll need regular veterinary care and all my immunization shots. Remember, I'm depending on you for everything. I am not a stuffed animal. I am a living, sensitive, feeling little creature, just like you. Don't leave me alone for long periods of time or I'll wonder why you've deserted me. When you're angry, talk to me, tell me your problems, but don't take your anger out on me. Please be patient with me while I'm learning. I may make mistakes sometimes. I may decide your best pair of shoes was bought especially for me for a wonderful chew toy - Thanks, Mom! Or I may forget just where I'm supposed to potty (by the way, how long ago was it that you were in diapers?). If you brag on me I'll do anything I can to please you - usually! In return for your time and your love I'll give you more love, more devotion, more laughs, more joy than you ever thought possible! I'll give you all my love. That's a promise humans rarely keep. I'll be just the same every day whether you're mad or sad or really happy. You'll never have to wonder if I'll love you less today than I did yesterday. I'll love you as long as I live with all my heart and being.
With all my love,
Your Chihuahua

All images and information on this web site belong to
Chihuahua Ward and is not to be reproduced in anyway, shape or form.
Chihuahua Ward ©Copyright 2010
All Rights Reserved.
No part of this web site maybe taken without the express consent of
Lyne' Ward, Chihuahua Ward.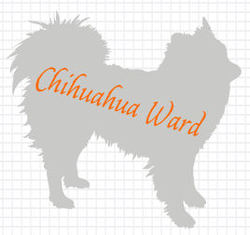 My Contact Information