Avaliable Puppies
We have 2 males and 1 female up for sale. These are of Belle (Cheree Howe's Belle of the Ball) and sired by Indy (Journeys Time Bandit)
We only have a few puppies each year. Be sure not to miss the chance to get one of these great pups! These puppies have 29 champions in their 7 generation bloodline. Their grandfather was a champion.
Puppies can be Held through Paypal! Please check with me before you send any momeys through PayPal as the email address are diffrent.
Thank you!
Belle and Indy #1
Sorry you missed out on this cutie.. He is being spoiled by her new owner Diane. She is just falling in love with him. His new name is Luckey because she was so luckey to get him.. Thank you Diane.. Hugs and Kisses to you both.
Boy: Born June 8, 2011
Birth wieght: 5.0 oz.
weight on 9/1/2011: 3.10 lbs
Color: Gold with cream undertones and possiable redish tips at the ends.He has a little bit of black around his mouth. This puppy is real fluffy. My husband named him Bull, but his name can always be changed.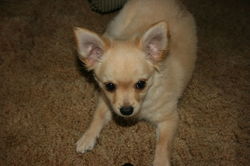 Belle and Indy #2
Last on Left.. Great Personality
Boy: Born June 8, 2011
Birth weight: 5.0 oz
weight on 9/1/2011: 3.4 lbs
Color: Black with tri color markings. He is changing so much it is hard to tell. Looks like he may have some white on his face. He has tan color front and back feet. White under his chest as a stripe from his right to left part of his chest. His hair is nice looking but not real fluffy. He has a under bite. (that is where his upper jaw is larger than the bottom one.) He is very smart and loves to play. My grandson named him Shadow. All names can be changed.
He will be sold with Limited AKC Only:
Sorry you missed out!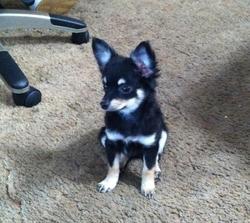 Belle and Indy #4
Sorry you missed this wonder little girl.. She is now the new baby of Darla of Vacaville of California.. Her new name is Popcorn.. This baby is getting real spoiled by her new mom.. Thank you Darla for all the kind words you have said about you new baby.. Hugs and Kisses to you all.
Girl Born: June 8, 2011
Birth Weight: 4.2 oz.
Weight on 9/1/2011 2.04
She is cream head that tapers down to her tail slowly making her white. She is changing color and seems to be getting darker. Not really sure what color she will turn out to be. She has a little black on her face around her mouth and nose, it is not real noticable. Our friend Javier named her Paloma. All names can be changed.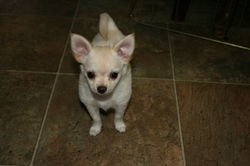 The picture above is of Indy and the puppy's. Belle is in the background.
I do not guarantee the size as a adult as they could grow more or quit growning at any point.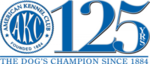 Be sure to contact us to put your name on a waiting list.
Please use the "hold my puppy' below after talking to us as we have a diffrent email address for paypal.
Thank you
email Us at:
All images and information on this web site belong to
Chihuahua Ward and is not to be reproduced in anyway, shape,
Chihuahua Ward ©Copyright 2010
All Rights Reserved.
No part of this web site maybe taken without the express consent of
Lyne' Ward, Chihuahua Ward.