Dame and Sire
Sires - Brownie & Indy * * * * * * * * * * Dame - Belle
Coach Lane's Gem "Brownie Button" call name Brownie
Brownie's Grandfather was a Champion. Brownie has 5 champions in his family tree going back six generations.
Brownie has the markings of an Alaskan Husky only in small size. He is a handsome dog. Everyone that meets him falls in love with his looks and personality. (Retired)
Cheree Howl's "Belle of the Ball" call name Belle
Belle is Champaign (AKC calls her Gold) from her ears tapering down to her back where she gets lighter and then goes back to Champaign to the tip of her tail. Photos don't do her justice as they almost always show her mostly white. She is Champaign (Gold), Cream and has White feet. Most people who meet her love her disposition. She is so sweet, you just want to hold her and love her. (Retired)
Chi Envy's Thinkin' 'Bout My Girl" call name Robyn
She is a joint efford between Chi Envy and Chi Ward. She is the product of Indy X Moo Moo. She has 29 Champions in her 7 Generation blood line. Her
Grandfather was a Champion. I am hoping to be able to show her when she comes of age. She is adorable and so cute. she is black and white just like her mom.
Chi Ward's Tiney Snow Bubbles call name Bubbles
Bubbles is out of our November 5, 2011 puppies. Belle X Brownie. She is spoiled rotten as she is my grandkids baby..She will not be one of our breeders. She has a bad fall as a pup and will not be able to carry pups she has been spaded. ( Retired )
All our dogs are Registared AKC. Some are also Registared CKC. This gives you the option of registering them American Kennel Club (AKC), Continetal Kennel Club (CKC) or both. Our dogs love to be around kids and people. They only bark when someone comes to the door that they don't know. It is a matter of the way you train them.
We wish to let you know we are not breeding any more.. All of our girls have been spaded and our males have been fixed
We love having so many babies here.. We now have 5 dogs that will remain in our care in their forever home..
Brownie, Belle, Bubbles, Robyn, and Shadow
We love them very much..
Lyne'
Journey's "Time Bandit" INDY
INDY is Registared AKC Only at this point. Plans are in the works for CKC. He now has a new home and Loves it..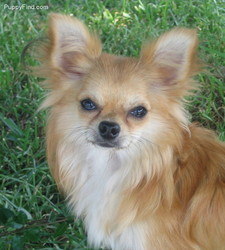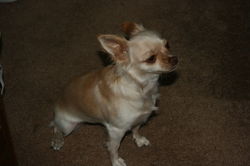 Chi Ward's Tiney Snow Bubbles....she will not be a Breeder.
Bubbles is out of Belle X Brownie.. She is White with cream on her ears and four spots on her back.
All images and information on this web site belong to

Chihuahua Ward and is not to be reproduced in anyway, shape or form.

Chihuahua Ward ©Copyright 2010

All Rights Reserved.

No part of this web site maybe taken without the express consent of

Lyne' Ward, Chihuahua Ward.